NAUFRP's purpose is to advance the health, productivity, and sustainability of America's forests by providing university-based natural resource education, research, science, extension and international programs. To advance the education component of its mission, NAUFRP has engaged in many different activities over the years.
Education Committee Report March 2023
Education Committee Report September 2022
Global Assessment of Forest Education:  The following is the link to the "Global Assessment of Forest Education" recently published by FAO: https://www.fao.org/documents/card/en/c/cc2196en/.  It is a synthesis of assessments conducted in six regions of the world, all of which are also available on the FAO website at https://www.fao.org/forestry/forest-education/99204/en/.  Forest education is defined as all education related to forests and encompasses K-12 through higher education.  More than a thousand references are cited in total.
Education Committee Report May 2022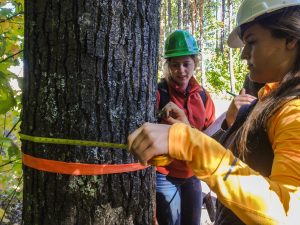 See Education Committee Report October 2021 here
See Education Report March 2021 here. 
Teacher Tours Feedback from NAUFRP, March 2021 here.
K-12 Outreach -Informal Survey of NAUFRP Members, October 2019 here.
See Education Committee Report: October 2020 here.
In 2003 NAUFRP published a report entitled National Graduate Education Needs and Priorities in Natural Resources, which is more commonly referred to as the Keathley Report. This report identified national research capacity shortages in forestry and natural resources and suggested ways to address those shortages. An important outcome of this report was that it contributed to the development of the Food and Agricultural Sciences National Needs Graduate and Postgraduate Fellowship (NNF) grants program, which funds graduate education in forestry and other agricultural disciplines.
Other efforts include hosting two diversity workshops related to forestry and natural resources education and employment, a workshop designed to identify and enhance the recruitment of students into the forestry profession, and the collection of data on university enrollments in forestry and natural resource undergraduate programs.
NAUFRP's most recent educational initiative is focused on undergraduate education and has led to the development of a document dated March 14, 2011 and entitled naufrp-undergraduate-educational-enhancement-strategy_03-14-2011. This document lists goals and possible action items, which in turn were prioritized through a survey of the NAUFRP membership. We will be working on this initiative over the next couple of years and will periodically provide the NAUFRP membership with progress updates.
Education Committee Chair - Andrew Storer, Michigan Technological University
Committee Members
Keith Gilless, University of California, Berkeley
Gwendolyn Boyd, Mississippi State University
Committee Reference Materials
NAUFRP Undergraduate Education Enhancement Strategy--Levels of Effort V2 
October 2018 NAUFRP Education Chair Annual Report Report
March 2018 NAUFRP Education Chair Interim Report Report--Sharik
2017 NAUFRP Education Chair Annual Report November 2017
March 2017 NAUFRP Education Chair Interim Report--Sharik
2016 NAUFRP Education Chair Annual Report November 2016--Sharik
March 2016 NAUFRP Education Chair Interim Report
2015 NAUFRP Education Chair Annual Report October 2015--Sharik
March 2015 NAUFRP Education Chair Interim Report-Sharik
2014 NAUFRP Education Chair Annual Report October 2014
March 2014 NAUFRP Education Chair Interim Report--Sharik